It can be hard putting your sales tactics into the consumer's perspective. Get yourself up to speed on the latest Short-Term Care statistics to better understand the need for this product by checking out the resources below.
This video will give you as an agent a better understanding of the Short-Term Care product.
This consumer-facing Short-Term Care video can be used as Marketing collateral to give clients an overview of the product.
Great premiums matter. Our Vantage Recovery rates are customizable to suit your client's every need. These sample rates** are a convenient way to quote your book of business for a Vantage Recovery policy quickly. Utilize the eApp to quickly get a quote by logging into ADDS®.
We're proud to stand out from the rest. See how we stack up against the competition by downloading our Product Comparison Chart now!
Download this infographic to get the facts and figures on Short-Term Care.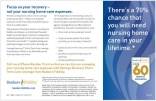 Log In to BOLT Marketplace, your one-stop-shop for pre-approved marketing collateral.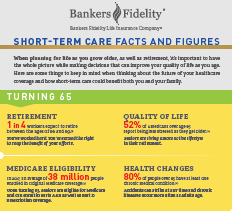 Download the Vantage Recovery Consumer Product Guide for a list of benefits.
Vantage Recovery Infographic
Vantage Recovery Product Guide
Questions about Vantage Recovery? Need to order supplies? Simply fill out the form below with your agent information and a representative from our Agent Support team will be in touch with you. You may also contact them at 866.458.7503 or email agentsupport@bflic.com.
*Product availability and benefits can vary by state. State version Sales Brochures and Outlines of Coverage may apply. Please visit ADDS for your licensed state(s) specific collateral.
**Sample rates shown apply 50% loss ratio states and are based on monthly draft billing. Visit ADDS to access state specific rates.
Short-Term Care Nursing Facility Confinement Policy form B 21702 underwritten by Bankers Fidelity Life Insurance Company®, Atlanta, GA. Limitations and Exclusions apply; actual policy provisions control. Rates subject to change on a class basis. Application to determine eligibility required. Product availability and benefits may vary by state.
BFL CP LP 7013 4/19